TROPHY SMALLMOUTH BASS, NORTHERN PIKE,
LAKE TROUT AND WALLEYE FISHING
Brown Bear lake outpost offers some of the best trophy Ontario Smallmouth Bass fishing lakes in the area. The Smallmouth Bass in this lake average 2 to 3 pounds. Four pound fish are common, and trophy wall-hangers (5 to 6 lbs.) are produced every season.This system also hold some pretty big northern pike in the lakes as well as lake trout and walleye.
Now you would think that would be enough to keep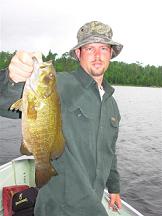 you busy on Brown Bear Lake, but we have got more. Portages! Three of them! The first is a 4 minute walk from Brown Bear Lake to the back waters of Midway Lake, where three boats and motors are waiting for you. You carry only your fishing rod, fuel and maybe your shorelunch for the day. By boat, you can travel from Midway Lake West to Midway Lake East through a scenic remote waterway about 5 miles long. Both fly-in lakes are full of fighting Ontario Smallmouth Bass and fast action Northern Pike. Many of our guests report moose sightings in this area. Now if you are not too tired, we have another portage (4 minute walk) from Midway Lake to Beauty Lake. Beauty Lake is our fighting Lake Trout destination, along with some more of the best Ontario Smallmouth Bass fishing that you will ever see. From here we have one more remote portage lake for the devoted Walleye Fisherman. The trail is located at the northwest end of Beauty Lake and it is not for the weak-hearted. Robin lake has some great walleye fishing along with northern pike fishing to keep you busy.
Moose Point Lodge is the only cabin on this system of four lakes. This Ontario fly-in fishing outpost cabin is a deluxe, 3-bedroom cabin and has over one thousand square feet of living space, capable of comfortably accommodating large groups of up to ten guests. The outpost cabin is located high on a point with a panoramic view, on a quiet bay in the heart of Brown Bear Lake. This outpost fishing camp is private and remote. It has complete kitchen facilities, hot and cold running water, hot showers, and a large screened-in porch overlooking the lake. We have a propane barbeque and fish cooker at this cabin as well as a small electric chest freezer to store all your frozen food. There is also a horseshoe pit for when you are not out on the lake fishing.
All boats are 16-foot wide Lunds with swivel seats and new Yamaha motors. This is an excellent camp for large groups with lots of water and excellent fishing throughout the season.
We also do our fly-in outpost BEAR HUNTING from this cabin.
E-mail Us for more information regarding any of our fly-in outposts.
Click here for our Fly-in Fishing Rates or for What to Bring