Ontario Northern Pike fishing at Gordie Lake Outpost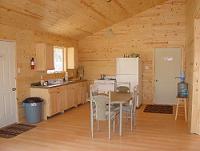 NORTHERN PIKE FISHING with some Walleye
Chalet Outpost is the only cabin on the lake
If you looking for a lot of fast action big Ontario northern pike fishing then check out our Gordie Lake Outpost in the heart of Northwest Ontario's Campfire River system. This fly-in fishing outpost is teeming with hungry Northern pike just waiting for your lure. The cabin is called "Chalet Outpost" and the lake is dark water with lots of structure to fish, a waterfall, rock outcroppings and weed beds. It is a flowage system.
The fly-in outpost lake is in two parts. The upper portion where the outpost cabin sits is 2-1/2 miles long and has the river dumping into it over a small set of rapids. Across from the outpost cabin is the outflow river that you can boat down and go into the second part of the flyin lake, which is a big heart shaped body of water, with rock and weed beds. It is about 2 miles across. The river continues south from this part of the outpost lake.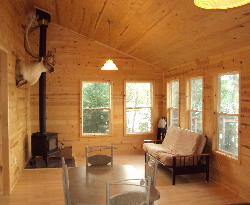 We also have a portage lake at the top end of Gordie that has great northern pike fishing.
We are the only fishing outfitter on this system, and it is the only outpost cabin on the lake. The average Northern Pike are 24 to 30 inch with 40+ inch fish caught and Walleyes from 1 to 2 lbs with larger ones caught in the 5 lb. range. The lake had not been used as an outpost in over 15 years. We had fished it on occasion as a boat cache lake, and we've been running limited numbers of guests through with good success and good numbers. It is one of our best Ontario pike fishing lakes because of the Campfire River system that runs through it.
The outpost cabin is a five star cabin with two bedrooms that sleep six. The living room/dining room is open concept with a woodstove and futon in the living area. Large bright kitchen has propane stove, refrigerator, hot and cold running water and solar lights. All cooking utensils are provided. There is a bathroom with shower and sink. There is a backup generator for lights. A large screened in porch out front facing the lake, as well as a deck to spend some time relaxing when not out on the lake Walleye or Pike fishing. We have a propane barbeque and fish cooker located outside for you to use. There is a fish cleaning table by the lake.
New boats and motors for the season. We are using 14′ boats with 6 hp Yamaha motors. The boats have raised swivel seats, landing nets, paddles, life jackets and bait buckets.
All our fly-in outpost lakes have been catch-and-release since 1990, and the northern pike and walleye fishing continues to be excellent with the limited number of guests allowed.
Click here for our Fly-in Fishing Rates or for What to Bring
E-mail Us for more information regarding any of our fly-in outposts.