FULLY GUIDED, STANDARD or FLY-IN OUTPOST BEAR HUNT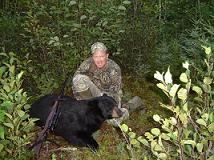 ING
Pickerel Lake Outfitters offers guests an Ontario Canada Bear hunting trip in an exclusive hunting territory in Northwest Ontario. Our Canada bear hunting area borders Manitoba to the west and Ontario to the east and also covers another bear hunting area to the south of our main areas. Our Exclusive Black Bear hunting territory is located in Northwest Ontario in a region that is well known for its high population and density of big Black Bears. Since the spring black bear hunt cancellation in the late 1990's, the black bear population has exploded, creating an excellent opportunity for our guests to harvest a mature Black Bear in the fall.
Here, at Pickerel Lake Outfitters, we have been living in our Bear Hunting Area for 25+ years and have bear and deer hunted in it extensively. This black bear hunting area is to the extreme west of Ontario and is bordered by the province of Manitoba on the west side. It is made up of old growth forest, logged over territory and burned out area which have created excellent black bear habitat with good berry growth and lots of cover.
We are not a part time bear hunting outfitter. We live here year round, and operate a fly-in fishing business during the summer months. We take pride in offering a first class Ontario bear hunt and take great satisfaction in providing a successful bear hunting opportunity for our guests.
FULLY GUIDED BEAR HUNT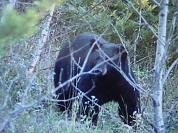 From our main camp, located on Pickerel Lake, north of Kenora, we offer a fully guided Ontario Black Bear Hunting Trip. It is a six-day bear hunt. Our bear hunting area is large, exclusive and is known for its high quality bear habitat. It has the highest density of Black Bears in the area with some color phased bears.
This area has lots of streams, small lakes, plenty of brush for cover and abundant food sources for bears. There are old logged areas that have grown up with cover and provides great berry habitat including blueberries, raspberries, strawberries and cherries. We have plenty of active sites that we pre-bait long before our first hunter shows up. With our area being quite large and diverse in terrain, we take a variety of vehicles to get you into the bear hunting sites. We'll use ATV, Truck or Boat to get you into the bear hunt sites .

We have scouted different spots in our Bear Hunting Area and set up our bait sites that will attract the largest majority of black bears. Our guides are hunters also, and when the bait sites are being selected they are put in productive spots. Also, with an exclusive Ontario bear hunting area, we can guarantee a high success rate, as we determine the amount of bear hunters we put through our area during the bear hunting season. We take a very limited number of hunters each season which gives most hunters multiple opportunities to harvest a big black bear.
Our bear hunting guide will take you out to the sites for your watch and then will pick you up at dark. We have a variety of permanent, portable and two person stands to hunt from. We offer field dressing, trophy care and freezer service as part of the main camp bear hunting package. Also included in the package are fishing boats and motors for you to use in mornings before the hunt and also after you've tagged your bear. Our guides have been in the business for a long time and are professional and courteous.

We take groups from two to four bear hunters per six day guided bear hunt at the main camp. We only offer five weeks of bear hunters through our main camp for the entire season, so booking early will ensure you have a spot for the guided bear hunt.
After you have harvested your Bear, you can relax around the camp, fish for Walleye, Smallmouth Bass, Pike and Jumbo Perch. Later in the season there is the option of a grouse hunt combined with the bear hunt.
Most Bear Hunters start their day out fishing in the mornings, come in for lunch, relax a little before they go out in the afternoons to their hunting stands.
Our Fully Guided Bear Hunting package include deluxe accommodations at our main camp, trophy care, freezer service, use of our boats and motors with gas. Not included in the price is your Hunting License, Export Permit, and Fishing License. See Bear Hunting Rates page for pricing of licenses.

E-mail Us for more information regarding any of our hunting packages.

*** BEAR AND UPLAND BIRD COMBO HUNT ***

We are now offering for the last hunt of our season, a BEAR/UPLAND BIRD COMBO HUNT. This area has lots of ruffed grouse, spruce grouse and some sharp-tailed grouse. It has great habitat for these species and they are lots of fun to hunt. Just purchase a small games license when picking up your bear license and you set to go.
STANDARD BEAR HUNT
with Light Housekeeping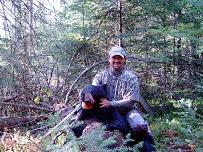 Located within our Ontario Bear Hunting Area, this Six Day Standard Bear Hunt (Semi-guided) will appeal to the Bear Hunters that have done a bear hunt before and wish to be more involved in the baiting, tracking, field dressing, and processing of their animal.
This Fall Black Bear Hunt requires the use of your ATV and Truck. Bait sites are pre-baited in advance of your arrival and our guide will assist you when needed. We will provide you with the bear bait. Permanent or portable stands have been set up at strategic locations so you will have the best chance at a trophy animal. This Ontario Black Bear hunt will be a limited number of Bear Hunters also, which will ensure a high success rate with the harvest of mature Bears.
Pricing includes a comfortable light housekeeping cabin. We will also provide you with bait for the six day bear hunt and a first day orientation of the bear hunting area when you arrive. The hunter will be responsible for the tracking and retrieval of animal and we will help if needed. Not included in the rates are your hunting and fishing license, outdoors card and export permit. See Rates page for information about licenses. E-mail Us for more information regarding any of our bear hunting packages.
FLY-IN OUTPOST BEAR HUNT
Brown Bear Lake Outpost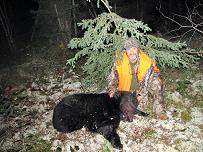 From the Seaplane Base in Kenora, Northwest Ontario, we will fly you into one of two deluxe outpost cabins, located north of Kenora to experience a seven day, fall Fly-in Outpost Bear Hunt. Brown Bear Lake Outpost is a three bedroom outpost and Treelined Lake Outpost is a two bedroom outpost cabin.
The Bear Hunt sites will all be pre-baited long before you arrive. You will have access to all equipment at the outpost. The areas are very remote and fly-in only and receive very little hunting pressure, if any. This area is dotted with lakes, creeks and swamps. The area has old growth timber along with some cut overs that produce abundant berries and food, producing large Black Bears as a result.
We will provide you with active bait sites along with extra bear bait to put out while you are on your Fly-in Bear Hunt at the outpost cabin. Permanent or portable stands will be setup for either rifle, muzzleloader or archery Bear Hunters. We will have numerous bait sites available, so if one site isn't producing you will have the option of moving to a different stand.
When you have harvested your trophy bear, give us a call. We will be in to pick up the hide and your meat to keep in a freezer until you are scheduled to come out of the outpost.
While at the outpost on your Fly-in Black Bear Hunting trip, you can fish during the times you are not out hunting. The lakes have great walleye, pike and smallmouth bass fishing right out your door.
Fly-in cabins are deluxe with two or three bedrooms, large kitchen/dining area, shower room with hot & cold running water, screened in porches and wrap around decks. They will accommodate groups of up to six bear hunters.
SPRING BEAR HUNT
Our spring bear hunt will be the same as our fall offerings, in that it will be a standard (semi-guided) hunt. The spring bear hunt will be a six day hunt from our main camp on Pickerel Lake or we also have a fly-in bear hunt available for a select few. Both hunts are a light housekeeping and cabins that will accommodate up to four hunters. We will offer a few dates so call or email for information.
E-mail Us for more information regarding any of our fly-in outposts.
Click here for our Bear Hunting Rates or for What to Bring