Ontario Fly-in Fishing at Treelined Lake for Smallmouth Bass and Northern Pike
BLACK WOLF LODGE is the only fly-in outpost camp on the lake.
Trophy Northwest Ontario Smallmouth Bass Fishing and awesome Ontario Northern Pike fishing is what you'll find at our Treelined Lake Outpost!  Treelined lake is within the Trophy Waters Area and some of the fish caught and released can attest to that!
Picture a cool, gin clear Canadian fly-in outpost lake with lots of fighting trophySmallmouth Bass and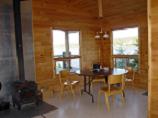 Northern Pike and you've got Treelined Lake.  Here, the Smallmouth Bass average 17 – 18 inches (2 – 3 pounds) on every catch, with 4 – 5 pound fish (20 – 22 inches) taken regularly. Northern Pike average 5 – 7 pounds, with 15 – 20 pounders caught every season.
This fly-in outpost lake is remarkably clear, and with Polarized glasses you'll see them close to the shoreline. You'll be glad you brought your camera to capture the action of multiple follow-ups by the bass, on every cast. Wildlife is abundant. It is very possible to see moose feeding along the shoreline during twilight hours. Eagles nest right across the bay from your outpost cabin. And of course, you can always expect to hear the call of the Canadian Loon to break the silence of the evening – truly a beautiful and unspoiled Canadian fly-in outpost fishing adventure.
Black Wolf Lodge is a deluxe two bedroom outpost cabin with cathedral ceiling, skylights, large screened-in porch with wrap-around deck, complete kitchen facilities,wood stove, futon, hot and cold running water, and hot showers. There is a propane barbeque and propane fish cooker at this cabin.  We have a fire pit by the lake.  The cabin is situated on a big penninsula surrounded on three sides by the lake.  This fly-in only fishing lodge provides comfortable accommodations for up to eight adults.
E-mail Us for more information regarding an of our fly-in outposts.
  Click here for our Fly-in Fishing Rates or for What to Bring