Ontario Canada Outpost Walleye, Pike and Bass Fishing at Norse Lake in Northwest Ontario
Wolve's Den – Only fly-in cabin on the lake

The WOLVES' DEN outpost fishing cabin on Norse Lake can accommodate six adults with a panoramic view looking east down the length of the lake.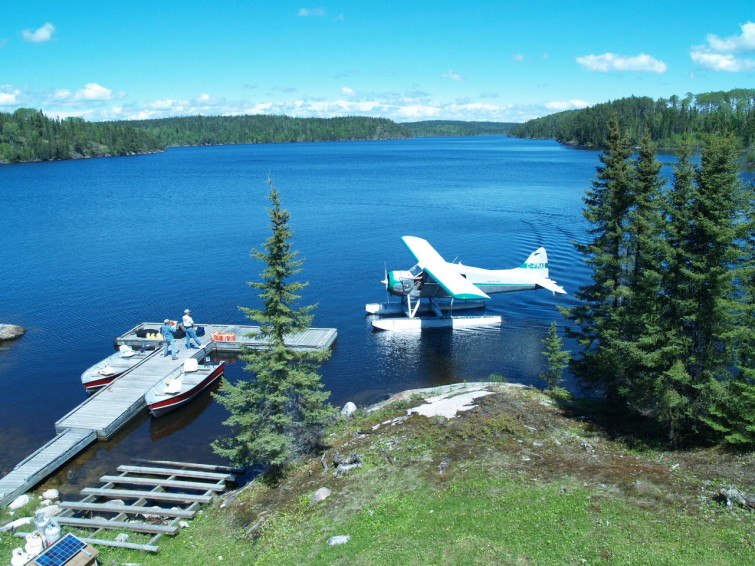 Norse Lake is a prime example of a remote Northwest Ontario Canada fly-in only wilderness lake.  This lake is dark water which makes for excellent walleye fishing during the day, but even better during mornings and evenings. During mid-day why not go for the smallmouth bass fishing as they are always in a fighting mood.  There is lots of cover for the fish with weed beds, sandy spots for beds during the early spring and fallen trees which provide excellent cover for the smallmouth bass and northern pike.
Protected by a high picturesque landscape, Norse Lake remains calm even  on the windier days. Excellent fishing consists of Walleye, Northern Pike, and Smallmouth Bass fishing.  Walleye average 1 – 3 lbs. with 4 – 10 pound trophies caught every season. The Smallmouth Bass fish population reaches into the 5 pound class and northern pike are abundant.
In addition to Norse Lake, there is a portage trail along a rapids leading into Little Norse Lake, which also harbors great walleye, northern pike, and
smallmouth bass fishing. All you carry is your fishing gear and gas, as we have a fishing boat and motor on the other side for your use. It is about a
five minute walk to Little Norse Lake.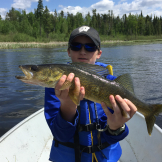 The Wolves' Den fly-in outpost is a newer, 2 bedroom deluxe outpost cabin with two sets of bunks in each bedroom, located on the west end of Norse lake.  This cabin has complete kitchen facilities with hot and cold running water, hot shower, propane stove with oven, propane refigerator, a cathedral ceiling with skylights in the living/dining area, a wood stove for those chilly nights, futon and a large screened-in porch with picnic table. We have propane barbeque and a fish cooker just off the deck and fish cleaning table by the lake.  There are two fire pits at the cabin, one by the lake and the other up by the cabin.  A wraparound deck allows guests a two-mile view of their flyin outpost vacation lake. E-mail Us for more information.
Click on option for Fly-in Fishing Rates or for What to Bring